Effective infection control
Good veterinary practice requires clean indoor air and surfaces
The majority of all infectious organisms are zoonotic; that is, they can be transmitted between animals and humans.[1]
Out of 175 pathogenic species considered to be 'emerging', 75% are zoonotic and have been associated with worldwide diseases including SARS and avian influenza.
Veterinarians may be exposed to waste anaesthetic gases, putting them at risk of adverse health effects and certain cancers.[2]
A German study (1998–2002) reported that zoonotic infections accounted for 14% of all reports of occupational diseases filed with the mandatory accident insurance service.[3]
Approximately 40% of veterinarians are assessed to have developed allergies as a result of their professional exposure to allergens, and of those 40% had to alter the way they practiced.[4]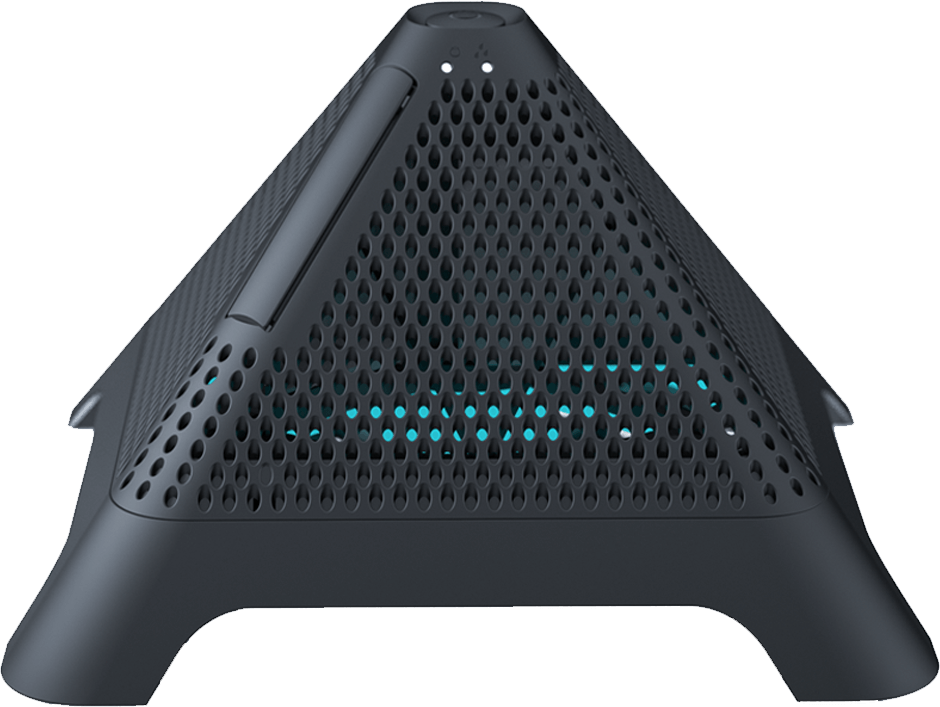 INTRODUCING THE EFFECTIVE, COMPACT AND CONVENIENT
Airora Pyramid
Only Airora destroys all germs, allergens and odours and most other pollutants and irritants throughout entire indoor spaces.
With a footprint of less than 310cm (13″) and under 20cm (8″) high, the award-winning Airora Pyramid fits discreetly into any professional environment and is suitable for rooms up to 80 cubic metres in volume – including examination and consulting rooms. Larger spaces, such as waiting areas, surgical theatres and boarding facilities, can be serviced by multiple Pyramids or by employing Airora's high capacity wall / floor mounted products (coming soon).
Airora's patented Hydroxyl Cascade quietly and efficiently cleans all of the air and sanitises surfaces in a room, 24/7. Simply plug it in, and instantly start clearing the room of germs, allergens, pollutants and smells.
Protect your staff and patients
Veterinary benefits
Staff protected
Covid has demonstrated the dangers that staff face during an infectious outbreak, and the resulting resource challenges even after extensive precautions have been taken.
Airora protects staff from both airborne and surface contamination during all of their in-house activities.
Prevention of cross infections
Given the variety of conditions, and the number of injured and sick animals they treat, cross infections are a continuing threat to patients and staff alike.
​Airora decontaminates all of the air and surfaces and provides real-time protection against all types of both animal and human airborne pathogen.​
​Improved ​air quality
Veterinary clinics in urban areas face high levels of air pollution from outdoors and the variety and number of pets they treat and house can make odour control a challenge.
Low energy and whisper quiet
Until recently, veterinary facilities have struggled to even modestly improve their infection defences by increasing ventilation and have sometimes fallen back on employing noisy, large, in-room air 'filters'.
Airora provides continuous protection, while being low energy, whisper quiet and people-safe.
Fast-acting
The UK's SAGE committee assessed in-room air filters and concluded that, irrespective of type, they all take more than an hour to achieve a limited reduction in airborne (and no reduction in surface borne) pathogens.
​Airora's molecular cascade reaction creates a real time person to person airborne infection barrier and, within minutes, kills all types of airborne pathogen throughout a room.
Client reassurance
The reputation of your veterinary facility depends on positive client experiences as well as patient outcomes.
​Deploying Airora's cutting-edge technology can help you win the trust of pet owners and staff, by ensuring everyone feels safe and protected while in the clinic.